Support the animals you love with a gift you can feel good about giving.
Your symbolic adoption helps the Dallas Zoo provide top-notch care for our animal family and supports our vision of Creating a Better World for Animals.
$98 | Adopt-An-Animal Package with Eco-Friendly Plush
Our full Adopt-An-Animal package includes a super-soft plush and can be mailed to you or sent directly to a gift recipient. Mailed benefits include:
Eco-friendly plush
Customized adoption certificate
Educational zookeeper report
Exclusive photo
Two general admission tickets to visit the Zoo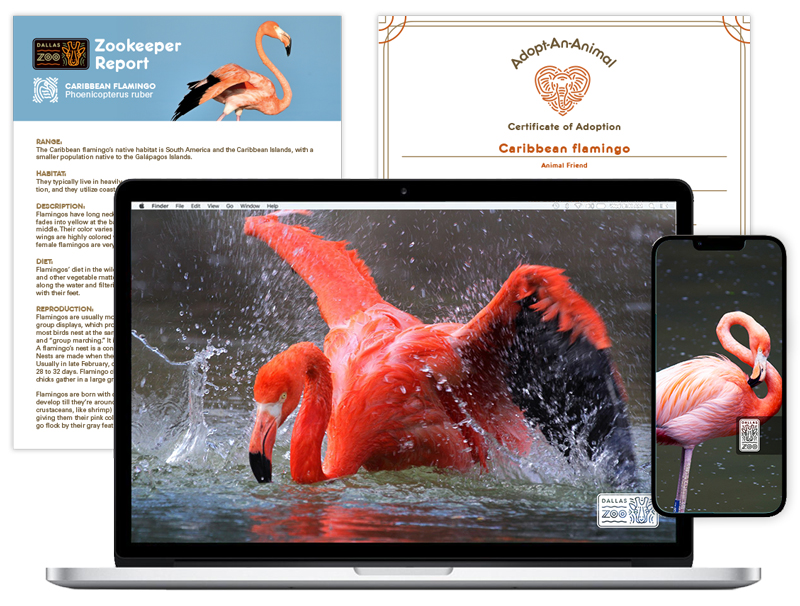 $35 | Digital Adopt-An-Animal Package
When you select our new digital Adopt-An-Animal package, you'll get an email from us with all the digital benefits listed below. You'll be able to customize the digital certificate and email the digital package whenever you're ready! Digital benefits include:
Customizable certificate
Educational digital zookeeper report
Digital wallpaper (for desktop and mobile)
Adoption plush packages will be mailed within five business days of purchase. We cannot guarantee a delivery date. If your adoption is needed urgently, please consider purchasing in person at the Zoo Membership Booth (available 9 a.m.-5 p.m. every day).
Digital adoptions are emailed within 24 hours.
If you need to purchase more than one Adopt-An-Animal package, if you would like to pick up your Adopt-An-Animal package in person, or if you have any other questions, please contact us at 469.554.7400 or Adopts@DallasZoo.com.
Each adoption helps the Dallas Zoo in Creating a Better World for Animals. Thank you!