Join us as we return to the Zoo to celebrate our 30th anniversary Zoo To Do – an evening full of fun, food, music, memories & beloved animals.
Safari Chic | Comfortable footwear recommended (flats)
Complimentary valet parking at the Dallas Zoo main entrance
30th Anniversary Zoo To Do Chairs
The Auction is live!
Get in on the action before the "mane" event by bidding on items in our online auction, open now through Saturday, November 6 at 10 p.m. Don't miss your chance to snag these wild items!
Cocktails and Hors d'oeuvres
Enjoy appetizers from top area chefs and restaurants
Big Board and Silent Auction
Animal Adventures Ambassadors
Giants of the Savanna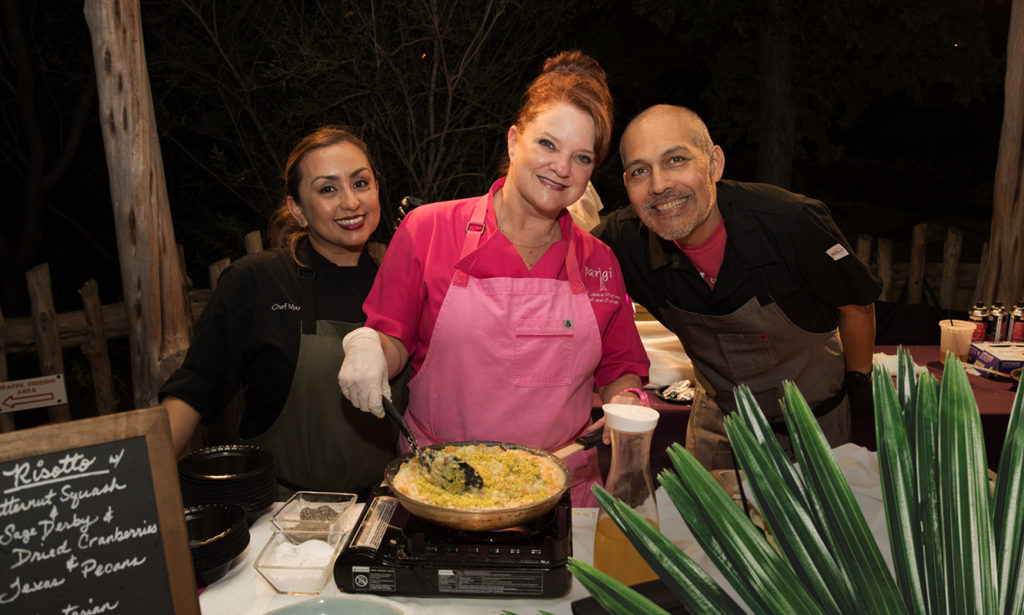 Strolling Dinner
Sample specialty dishes from your favorite restaurants
Wilds of Africa Plaza
Live Auction
Wilds of Africa Plaza
Music and Dancing
Manhattan
Wilds of Africa Plaza
Big Board and Silent Auction Close
Tickets to Zoo To Do are now
to confirm any remaining availability.
You can still support your Dallas Zoo with a donation today!
Botolino Gelato Artigianale
Cathedral Italian Bistro with Rosewood Ranches Wagyu Beef
Ellie's Restaurant & Lounge at HALL Arts Hotel
Home Cooking with Blythe Beck
Imoto/Rathbun's Curbside BBQ
Lovers Seafood and Market/Shinsei
Sushi Chef Shuji "Elvis" Sugawara
The Restaurants of Neiman Marcus
Chef Matt Zita and Chef Sara Toth
Nothing Bundt Cakes Highland Park
Chef/Pitmaster Michael Lane
Chef Jim "Sevy" Severson and Gerardo Calderon
Truluck's Ocean's Finest Seafood
Diane Brierley, Mary McDermott Cook, Ruth O'Donnell Mutch
Alex Arellano, Ryan Gummer, Steven Roth
Jared Miller, Aimee Williams-Ramey and Royce Ramey
Carol and Don Glendenning
Silent Auction and Raffle Committee
Rudy Rodriguez, Gayla Von Ehr
Greg Hext, Michael Meadows
Jeff Bekavac, Chris Chauvin
Carol and Don Glendenning
Tiffany and Bobby Abtahi
Purvi and Bill Albers
Bonner and Thomas Allen
Jennifer and Peter Altabef
Angela and Alex Arellano
Lee Bailey
Cynthia and Brice Beaird
Hal Brierley
Kate and Lane Britain
Phyllis Comu
Emily and David Corrigan
Julie and Bill Evans
Lois and Ross Finkelman
Alisha and Chris Gummer
Cameron and Jay Gummer
Cindy and Chuck Gummer
Michelle and Ryan Gummer
Kathy and Kevin Hanrahan
Kim and Greg Hext
Carol and John Levy
Sarah and Alan Losinger
Tiffani and Steven Mackenzie
Pat and Charles McEvoy
Amy and Michael Meadows
Jill and David Mellinger
Jerry Miller
Dawn and Steve Moore
Dan Patterson
Nancy and Doug Rabe
Jeff and Darrel Rice
Ruth Robinson
Steven Roth and Thai-lan Tran
Stefanie Schneidler and Jeff Robinson
Gretel and Justin Shipley
Chuck Steelman and Scott Kehn
Patricia and Kelly Terry
Gayla and Jim Von Ehr
Joan and Alan Walne
Aimee Williams-Ramey and
     Royce Ramey
Ellen and Don WInspear
The Eugene McDermott Foundation
Diane and Hal Brierley
Ruth O'Donnell Mutch
Carol and Don Glendenning/
     Locke Lord
Dawn and Steve Moore
Overhead Door Corporation
Gayla and Jim Von Ehr
Purvi and Bill Albers/
     American Excelsior Co.
Jennifer and Peter Altabef
BMO Wealth Management
Kate and Lane Britain
Cindy and Chuck Gummer
Lyda Hill Philanthropies
Carol and John Levy
Joan and Alan Walne
The Edward W. Rose III Family Fund at The Dallas Foundation
Jennifer and John Gates
Nancy and Doug Rabe
Edgar A. Robinson Family
Official Zoo To Do Airline
Aimee Williams-Ramey and
     Royce Ramey/
     Tolleson Wealth Management
THANK YOU TO OUR ZOO TO DO 2021 SPONSORS
OFFICIAL ZOO TO DO AIRLINE
OFFICIAL ZOO TO DO MEDIA SPONSOR