Animal Adventures Outreach
Bring this exciting wildlife program to your school or workplace!
This 45-minute program features animals from around the world. Animal Adventures is designed for ages 5 and up and for most audience sizes. Each program will feature 6-7 ambassador animals, including a variety of birds, mammals, and reptiles.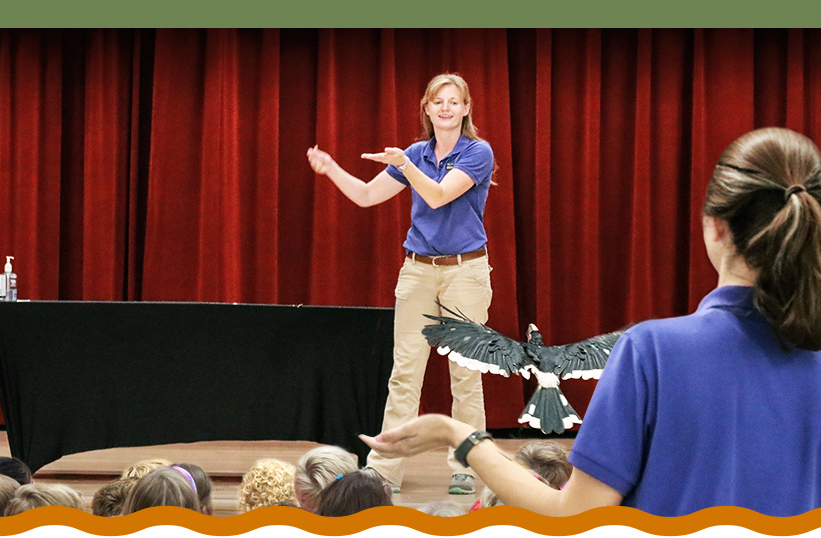 General Information:
This 45-minute educational program features 6-7 ambassador animals including birds, mammals and reptiles.
Our programs are designed for ages 5 and up, for most audience sizes, and can be tailored to support your curriculum needs.
Reservation forms must be received at least two (2) weeks in advance, however, our program can book up 4-6 months in advance. Programs are available Monday-Saturday from 9 a.m.-2 p.m. Please be sure to include several date options, as program availability is limited and our schedule fills quickly.
There are about 20 different species of birds, mammals, and reptiles that are specifically trained and acclimated for outreach programs. Animal requests can be made, however, we cannot guarantee the appearance of a specific animal. Additionally, we cannot confirm which animals will be included in any program as there are a variety of factors that determine which animals will attend.
Our program is TEKS aligned and designed for ages Kindergarten and up.
Please note that our program is NOT a petting zoo, and touching/audience participation during programs is never guaranteed.
Please download our full Frequently Asked Questions PDF
Pricing:
| | |
| --- | --- |
| 1 Program (0-20 miles from Zoo) | $350 |
| 1 Program (21-40 miles from Zoo) | $400 |
| 1 Program (41-60 miles from Zoo) | $450 |
| 1 Program (60+ miles from Zoo) | Call or email for quote |
| 2nd Consecutive program | $200 |