Welcome to your member-exclusive Dallas Zoo digital magazine. Thank you for supporting our vision of Creating A Better World for Animals.
Emperor Tamarin Troop Grows by Four
by Chelsey Norris, Guest Contributor
Emperor tamarins may be tiny, but what they lack in stature they make up for in personality and charm. With their expressive faces, marked by distinctive white, mustache-like facial hair, it's easy to see why these miniature monkeys have become some of Dallas Zoo guests' and zoologists' favorites.
ZooNorth is home to two adult pairs of these petite, precocious primates. One pair is Bella and Finn, who can be seen in their habitat at The Underzone in the Lacerte Family Children's Zoo, which they share with two red-rumped agoutis. The other is Roger and Lettie, who live in the Tamarin Treetops above Asian brown tortoises, across from Prime Meridian Café. Over the last year, Roger and Lettie have become parents twice over, welcoming their first set of twins, Chico and Ilsa on May 13, 2022, and a second set of twins on March 29, 2023.
"Roger is an experienced dad and came to us having had previous children at other AZA-accredited zoos," said Audra Cooke, a zoological manager in the mammal department. "Lettie had not had any babies until Chico and Ilsa, so we were curious to see how she would be as a mom. Immediately, she was great."
Emperor tamarins live in tight-knit, social family troops of up to 15 individuals that normally include a single breeding female, one or two breeding males and multiple sets of offspring. Tamarins have a gestation period of approximately four and a half months and will give birth to one or two infants at a time.
"Much like other tamarins, emperor tamarins stay with their family group for a while, which is actually how they learn how to be parents themselves," said Cooke. "As they mature and prepare to start their own families, they stay with mom and dad and observe how to care for the little ones. It's a kind of societal bonding thing."
When it comes to parenting, everyone in the troop pitches in, a behavior called "alloparenting" in the animal world. However, tamarin dads play a particularly important role. Outside of feeding time, the males take on the lion's share of child-rearing tasks, which is where 14-year-old Roger shines.
"Roger is such a great dad; there's just no comparing him to any other dads," Cooke shared. "He knows what he's doing, and he takes care of those babies. He is an older gentleman, but even when he gets tired, he still is there to help out and do what he needs to do." Chico and Ilsa have already been observed doing their part to help care for their newborn siblings.
"If you visit their habitat, you may see Chico carrying one of the babies while Roger carries the other one. In this situation, he's learning how to be a dad himself," Cooke said.
Most mammals born at the Dallas Zoo receive a well-baby exam from veterinary staff soon after birth, which is when the little one's health information like weight, size, and gender is recorded. When it comes to primates, however, infants need more time to bond with their parents, so as long as everyone seems happy and healthy, animal care staff wait a few months before performing the exam.
"It's been difficult to even get visual confirmation of gender, since the younger twins are with mom and dad most of the time right now," Cooke said. "We'll try to snap a photo if there's a quick moment when one of the babies ventures away from the parents, but we'll have to wait for official confirmation from the vet staff."
In the meantime, this family troop is thriving, and the zoologists are soaking up every second. Chico and Ilsa are nearing adult size, although guests may notice that their mustaches and other facial features aren't quite as developed as their parents' yet. The younger twins are still tiny – Cooke estimates that they are about three inches long, from their heads to the base of their tails. Although they spend most of their time being carried by Roger, Lettie or Chico, the little ones have already been seen cautiously exploring their habitat.
"Initially, when the babies are born, they're so hard to spot since they're so little and their fur sort of blends in with the adults," said Cooke. "Now that they're venturing out occasionally, guests have started to see them more regularly. We can hear the crowd get excited and say things like 'oh my gosh, there's a baby!' which has been so much fun."
"I just think they're perfect, and it's really rewarding for us to have a breeding group that's so successful," Cooke continued. "We've been working towards this for so long, so I'm happy that we've gotten to see what this family can do. Plus, it's amazing to see Roger and Lettie be such great parents!"
Be sure to follow along on the Zoo's social media channels for the latest updates on the emperor tamarin family troop, including gender and name reveals for the infant twins in the coming months.
Visionary leader leaves a lasting legacy
One of the members of the committee that helped interview and hire the Dallas Zoo's president & CEO back in 2006 said recently of interviewee Gregg Hudson, "You just knew when he walked in the door that he was the one." Gregg's smile, his easy way, the twinkle in his eye, and his confidence that this Zoo could be great were all mentioned as the elements that put him over the top in the search at the time.
The next 17 years would tell us that Gregg was absolutely "the one."
The Dallas Zoo lost a visionary leader this year when Gregg passed away in early April 2023 at the age of 64, following complication from a battle with cancer. He was a beloved husband, father, brother, son, and leader in the zoo and aquarium industry. He was a friend and mentor to so many, not only here in Dallas but across the country and around the world.
The list of Gregg's accomplishments and successes at the Dallas Zoo is long; but even longer is the list of lives impacted by his generosity, his love of the zoo world, his passion for conservation, and his willingness to share his expertise.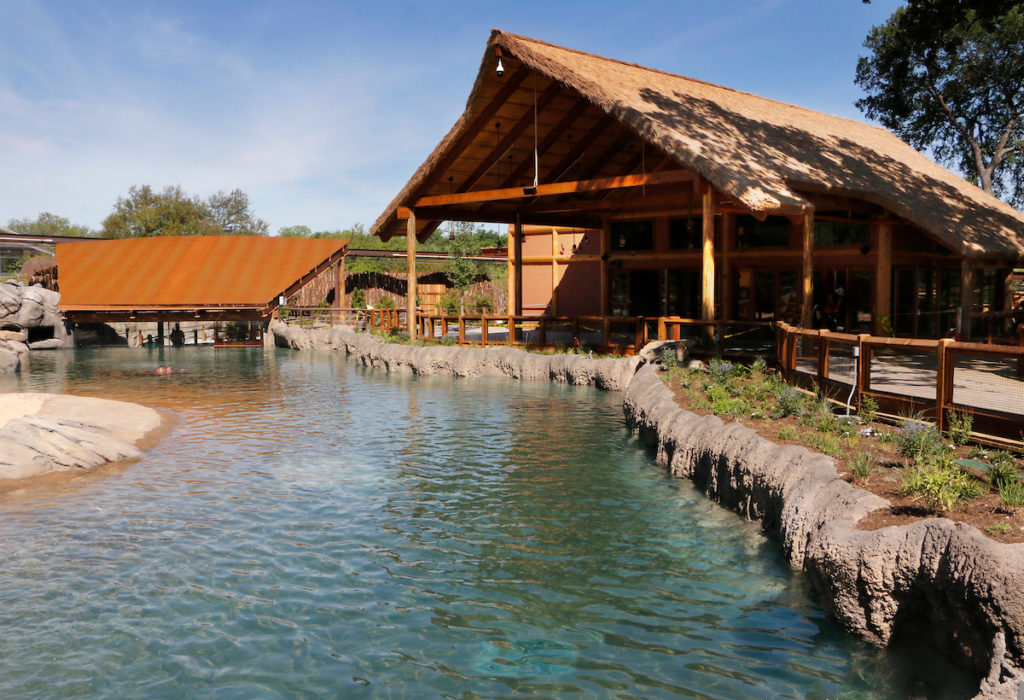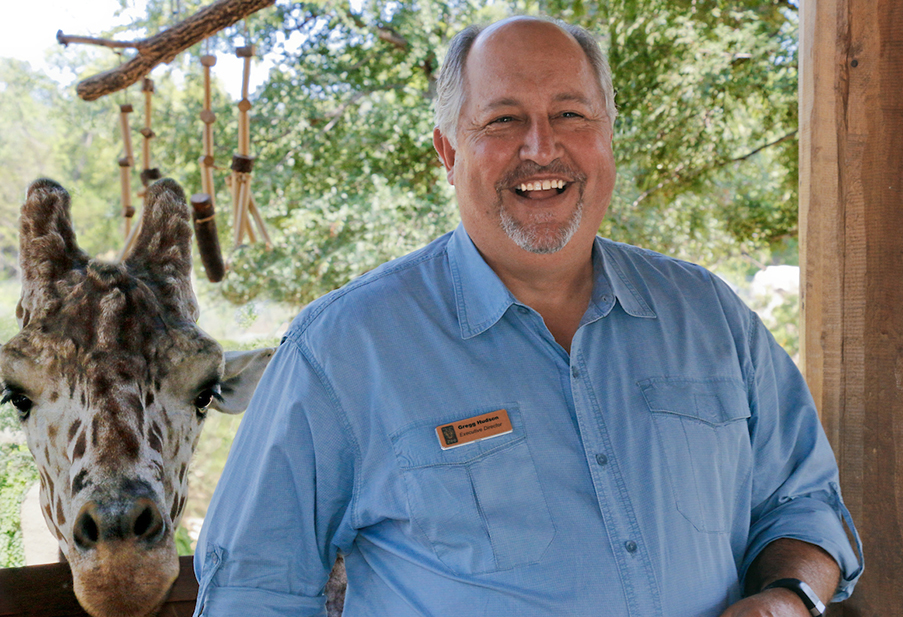 Gregg's goal from the beginning, when he joined in 2006, was to make this one of the best zoos in the country. He took the reigns at a time when, in his words, it was "one of the most underachieving zoos in a major market in the U.S." His aim was to bring his experience from past roles – in the hospitality industry, in food service, and at national attractions – to make the Dallas Zoo a premier destination known as a leader in animal welfare, guest experience, conservation, and education.
He oversaw the creation of a thriving public / private partnership with the City of Dallas, as the nonprofit Dallas Zoological Society took over management of the Zoo from the City in October 2009. That was followed shortly by the construction and debut of the first-of-its-kind in the U.S., award-winning Giants of the Savanna habitat. That transformational mixed species expansion set the Zoo on a trajectory to surpass the 1-million-guest mark for the first time in its history in 2015. Several years later, after debuting the new Simmons Hippo Outpost, attendance hit a high of 1.2 million guests in 2017 – which was double the yearly attendance from when the Zoo privatized in 2009.
Through almost two decades of leadership, Gregg guided the Zoo through challenging days and had a knack for ensuring the institution emerged on the other side a stronger organization. From addressing questions around elephant welfare in his early days; to spearheading the rescue of elephants in Swaziland (now Eswatini) that were marked for culling; to steering the Zoo's response to a global pandemic; and leading us through the unprecedented string of break-ins in early 2023, Gregg was driven by his dedication to the staff, our guests, and the animals in our care.
In 2016, Gregg led the development of a strategic plan that would lay the foundation for the Zoo's future. Then in 2019, the team created a master plan to serve as the guide for the next few decades of growth, conservation work, education, and accessibility at the Zoo. Essentially, a plan to reinvigorate the Dallas Zoo. While the pandemic caused us to press pause for a bit, significant efforts to support the master plan are now in early stages. While Gregg won't be here to shepherd the campaign or see the results, he leaves a legacy of bold thinking that inspires all of us. We plan to honor Gregg and make him proud – and fulfill his plan to make this the best zoo in the nation.
Thank you to our Sponsors