Dallas Zoo Lights
Presented by Reliant
Tickets on sale October 18!

Same holiday tradition, with a socially distant twist
Cruise the mile-long route through the Dallas Zoo and enjoy many magical holiday moments along the way! Featuring one million twinkling lights, elaborate holiday-themed displays, dazzling 3-D lighted sculptures, larger-than-life animal lanterns, and more, all from the comfort of your vehicle. NEW THIS YEAR — immersive video projection mapping will transform select areas along the path, and the route ends with a bigger, brighter Reliant Holiday Village!
Open select nights Nov. 19 – Jan. 2
6:00 p.m. – 9:30 p.m.
Wondering what to expect at this new drive-thru Dallas Zoo Lights? Find the answers HERE.

Timed entry tickets must be purchased online in advance of your visit to Dallas Zoo Lights. Tickets are limited and will sell out.
Questions? Click HERE.
Member price: $50 per car
Non-member price: $65 per car
Tickets go on sale on October 18! Dallas Zoo members get access to an exclusive pre-sale starting on October 15.
Ticket sales are final. There are no refunds, time changes, or date exchanges for Dallas Zoo Lights tickets, so please plan accordingly.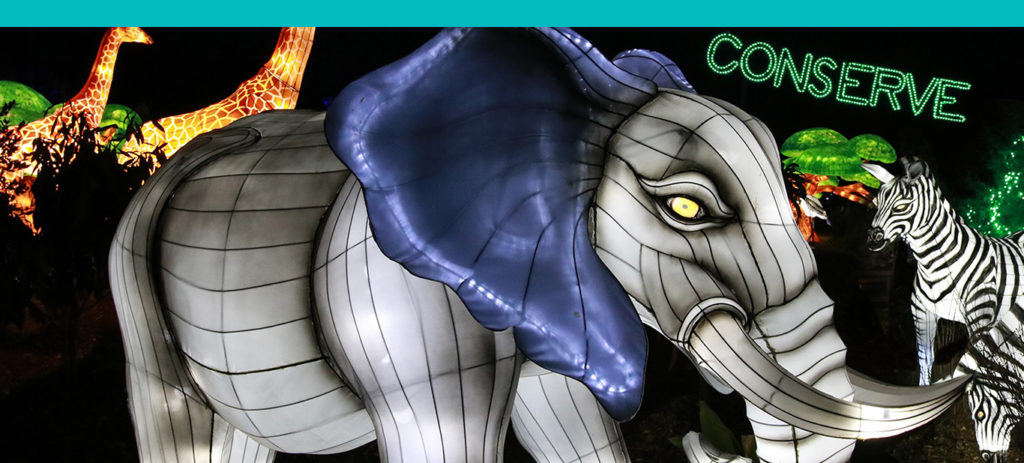 Join today and save!
Save on a year of adventure today. Dallas Zoo members get $15 off tickets to Dallas Zoo Lights and year-round member perks including free daily admission and parking, member-only experiences, discounts, and more.

Use the calendar below to see which nights will shine bright with Dallas Zoo Lights Presented by Reliant.
Pre-order set package of food & drinks, or purchase individual items onsite in select areas. Details coming soon!
Tune your car's radio to the Zoo's station, 1680 AM to fill your car with holiday tunes and greetings.
Marvel at mesmerizing animal-themed vignettes, from a lush rainforest to an Antarctic adventure; stunning, 360-degree light-covered tunnels; hanging lighted décor; and silk-covered, illuminated animal lanterns.
Park and stroll through Reliant Holiday Village at the end of the drive-thru route to partake in photos with Santa, photo ops in front of the 30-foot lighted Christmas tree, musical performances, and more.
This is very different from previous Dallas Zoo Lights experiences! The Dallas Zoo will close at 4:00 p.m., and the new drive-thru event opens at 6:00 p.m.
You must purchase Dallas Zoo Lights tickets online in advance of your visit. We are selling timed tickets for this event to help control traffic and minimize wait times, and tickets will not be available for purchase at the gates.
Please arrive for your event entry during the timeframe shown on your ticket. We cannot guarantee entry into the event if you arrive late.
One vehicle = one ticket. You can bring as many family or friends as you have room to safely accommodate in your vehicle with seatbelts and car seats. Please note, riding in the bed of a pickup truck is not permitted.
There is no parking available for this event. If you're planning to meet and consolidate cars, please do so before arriving at the Zoo.
The unique driving path we've created through the Zoo is not designed to accommodate extra-large vehicles. The maximum vehicle size is about the length / width / height of a full-sized Suburban. No RVs, limousines, monster trucks, trailers, etc. are permitted.
While times may vary, the estimated time to drive through the Dallas Zoo Lights experience is 30-45 minutes. Of note, there may be a wait to enter the experience during peak hours and on popular nights.
Face coverings are mandatory for anyone in the vehicle who may interact with Zoo staff, and if you plan to exit the vehicle for a restroom break or to walk around the Reliant Holiday Village.
You must remain in your vehicle for the duration of the drive-thru, except in one of the areas designated as restroom stops or in the Reliant Holiday Village.
In order to minimize noise and ensure the comfort and safety of our guests and animals, vehicles with loud exhaust or engine modifications will NOT be permitted entry.
The following are prohibited during Dallas Zoo Lights, including in your vehicle:
– Smoking and vaping
– Alcohol
– Pets (except ADA-compliant service animals)
For guest safety, all tailgates, car/van doors, and hatchbacks must remain closed at all times.
No refunds or exchanges are available, so please plan accordingly.
The Dallas Zoo is not responsible for any collisions or damage to your vehicle during the event.
---
Thank you to our generous Dallas Zoo Lights sponsors